Events
Mission 21 hosts a variety of events throughout the year.
Mission 21 Anti-Trafficking Partner Summit
The event will be held at Autumn Ridge Church
$20 for general admission; $30 for vendor booth (which includes one admission).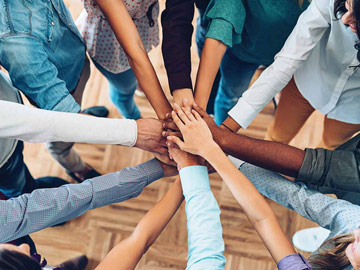 Mission 21 is hosting its first annual Partner Summit to help raise awareness of the impact of sex trafficking locally, statewide, nationally and globally. We have speakers for each of those updates, as well as a panel of experts sharing how we are fighting youth sex trafficking in our area. Mayor Kim Norton will be opening our summit with a proclamation for all of us to work together to keep our youth safe from sex trafficking. Dr. Jeanne Brooks, professor of the Department for Counselor Education and Family Studies atLiberty University, will be our keynote speaker. Since 2008, she has been conducting research in neurobiology of trauma. Over time, she began examining complex trauma as it relates to the trafficked individual. She currently leads students around the world training anti-sex trafficking organization on trauma care. She will also be providing basics on self-care for practitioners. Whether you want to better understand what sex trafficking is, how Mission 21 and our network of partners are working to end it, or how to manage working in this field on a day-to-day basis, this summit is for you! It is open to the public and we hope many of our partners (other youth agencies, area pastors, lay workers, social workers, our donors, or those interested in becoming a volunteer in this arena) can come, be informed, and help spread our cause to end sex trafficking. No person should be for sale.
Foster Fest 2019 presented by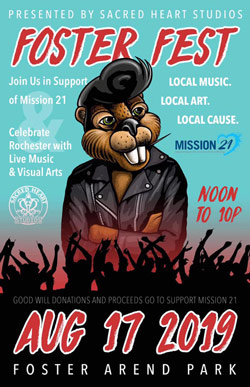 On August 17th, 2019 at Foster Arend Park, local bands will unite for Foster Fest to entertain the community with live music and art to raise money for Mission 21, an anti-trafficking organization serving victims of domestic minor sex trafficking.

Foster Fest will bring together musicians from a wide variety of genres to showcase Rochester's homegrown talent. In addition to music, there will be local vendors and artisans on the scene, all coming together to bring awareness to Mission 21 and benefit their organization. Attracting thousands of people last year, and raising thousands of dollars in donations, Foster Fest brings our community together and is quickly becoming a local summer tradition.

This is a free event with a recommended donation with all proceeds going directly to Mission21.
Join Our Newsletter
---

Partner
We could not do this work without your help. Financially partnering with us changes the lives of youth survivors.
Give Today!